In the Sales > Analytics section you'll see your estimated and confirmed sales, and in the Sales > Reports section, you'll see just your confirmed sales.
Analytics
Reports
Balance
Analytics
In Sales > Analytics, the platform displays the Estimated Sales Graph until the last sales report was uploaded.
The estimated sales are updated monthly between 10th-20th and the info will appear in 60 days. For example, February sales will be uploaded on 10th-20th April. So, to visualize correctly your Sales in the graph you have to select a "starting date" and an "ending date" with not less than 60 days and click on "Reload data".
The system will show the Estimated Sales Evolution in each channel with a different colour: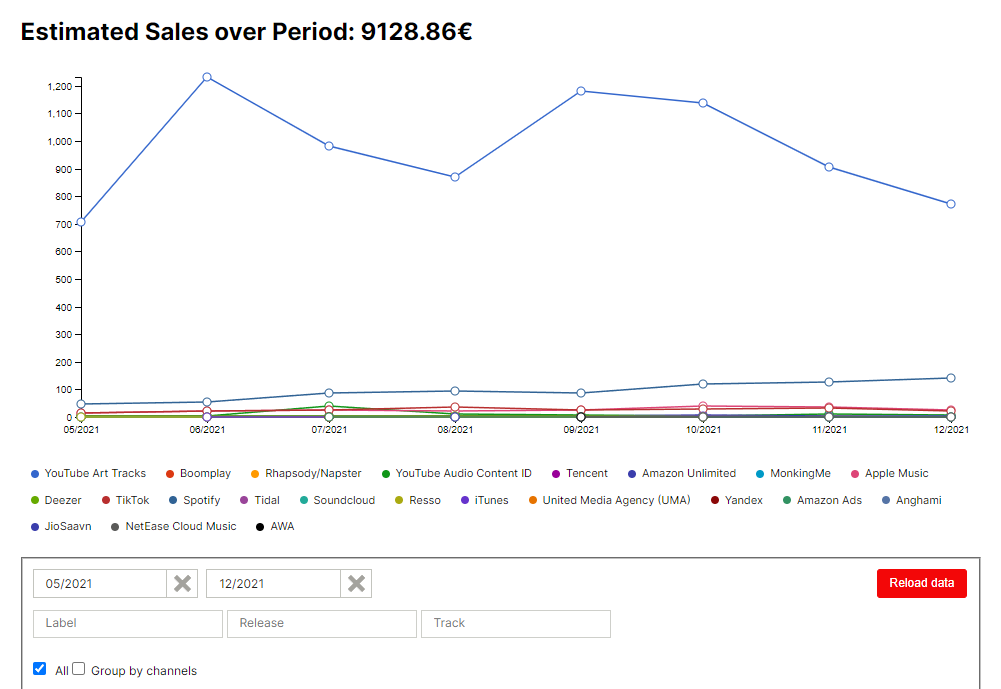 Below the graph you can use different filters so you can analyze your estimated sales according to the following guidelines:
Date/period

Label

Release

Track

Channels
If you place the mouse on any graphic points, you will see the respective amounts in concrete periods.
Reports
In the section Sales > Reports you can check your sales reports. They are already processed, confirmed, and added to your Balance.

Here below the reflected information:
Report date: confirmed sales date from a certain channel.

Channel: Channel report.

From….To…: Report period.

Transactions: number of transactions for this sale

EUR: report total amount.
With the option "Download CSV file" you can download a file that contains all transactions included in this sales report. This information is totally transparent, as we transfer the exhaustive information that each channel shares with us.
With the option "Download unconfirmed sales reports" you can download a file with all the transactions that have been uploaded to the tab Sales > Analytics but are still not confirmed. Once you have these files downloaded, you can open them with Excel or a similar program.
Balance
In the section Sales > Balance you can see your current balance as well as all different history transactions like orders, or deductions: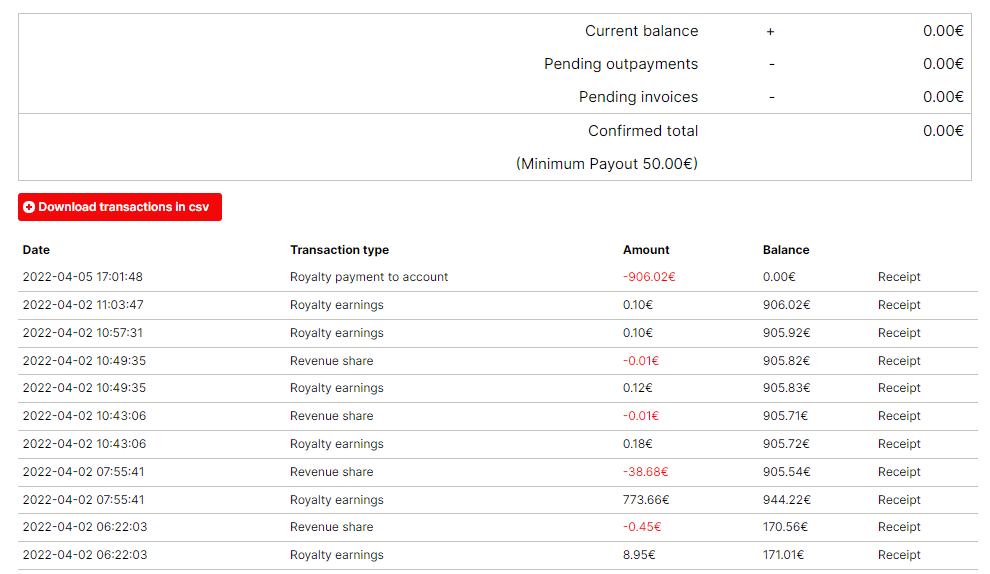 Here you'll find the following information reflected:
Current balance: Current balance in your account

Pending outpayments: The pending outpayment requests

that have to be paid.

Pending invoices: if you have a pending invoice payment, you will see it here as a deduction.

Confirmed total: Payable balance. As long as the balance reaches the minimum threshold, you can

request the payment with the "Request outpayment" button

.

Date: On which the transaction was made.

Transaction type: Here you can find your earned sales (

Royalty earnings

) if you used the balance for a distribution service (

Royalty settlement against invoice

) or the outpayment request that you already received (

Royalty payment to account

)

Amount: Transaction total amount

Balance: Accumulated balance after the transaction
If you click on the "Receipt" button you will see the transaction receipt file that you can print or download.